ABOUT US
Our Vessels – The Industry's Best
YOUR SAFETY AND COMFORT IS OUR PRIORITY.
All crew are trained to Senior First Aid level certification as a minimum, and key personnel are trained in ocean rescue and in first response remote emergency medicine. We conduct regular training and drills in emergency response and practice safety at sea.
All expeditions and tours begin with a comprehensive safety briefing to ensure you are fully informed about any procedures we will undertake and your role in them. We don't just tell you that you are safe, we show you how we will keep you safe. All vessels in our fleet exceed vessel survey standards and carry safety equipment above regulation requirements.
ALISON MAREE
The beautiful Alison Maree is a modern, spacious and luxurious 20m catamaran, providing the ultimate in stability, comfort and safety. A long range expedition vessel purpose-built for the Southern Ocean she is immaculately presented, with three spacious viewing decks. Spend time spotting wildlife on the bow or from the huge upper and lower rear decks, or try all three! Inside, join the skipper in the comfort of the air-conditioned wheelhouse for the ultimate, uninterrupted 360 degree panorama. Downstairs, relax in the spacious and comfortable air-conditioned main saloon with seat-to-ceiling windows for uninterrupted wildlife viewing. Our gleaming galley is stocked with complimentary beverages and snacks. Quality finishes throughout including two modern toilets with washbasin facilities complete your comfort.
Our state of the art audio visual system is second to none, allowing exclusive on-board learning experiences that begin from the moment you board. Our 3D plotter also feeds to our screens on board, allowing you to watch your journey unfold. A powerful 240 volt charging system can charge all of your electronic devices at any time, so you should never miss that once in a lifetime photo or video!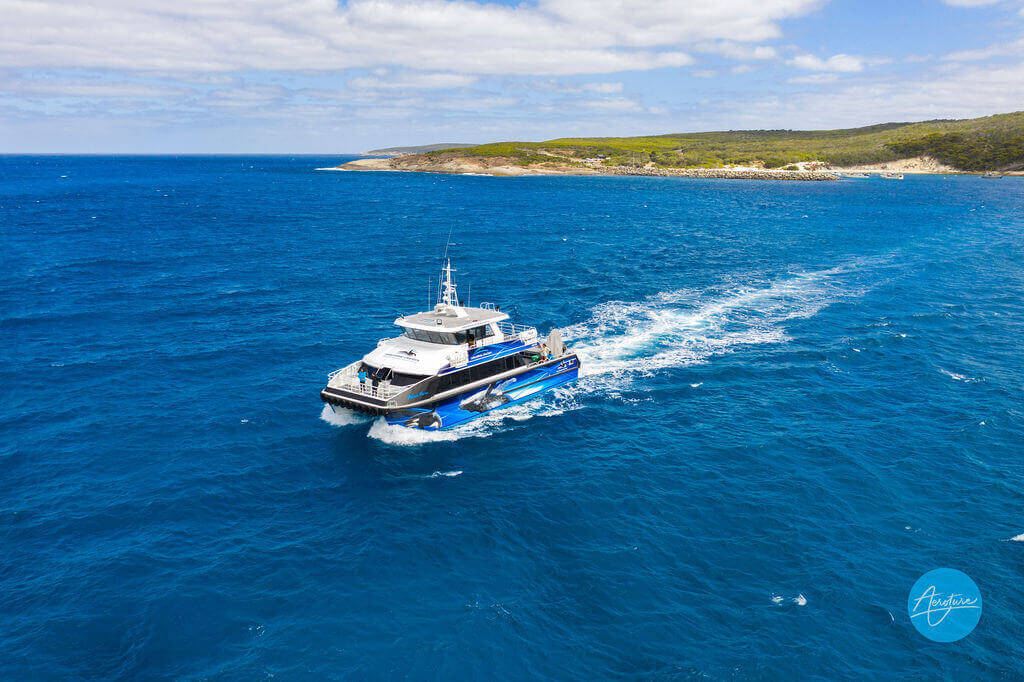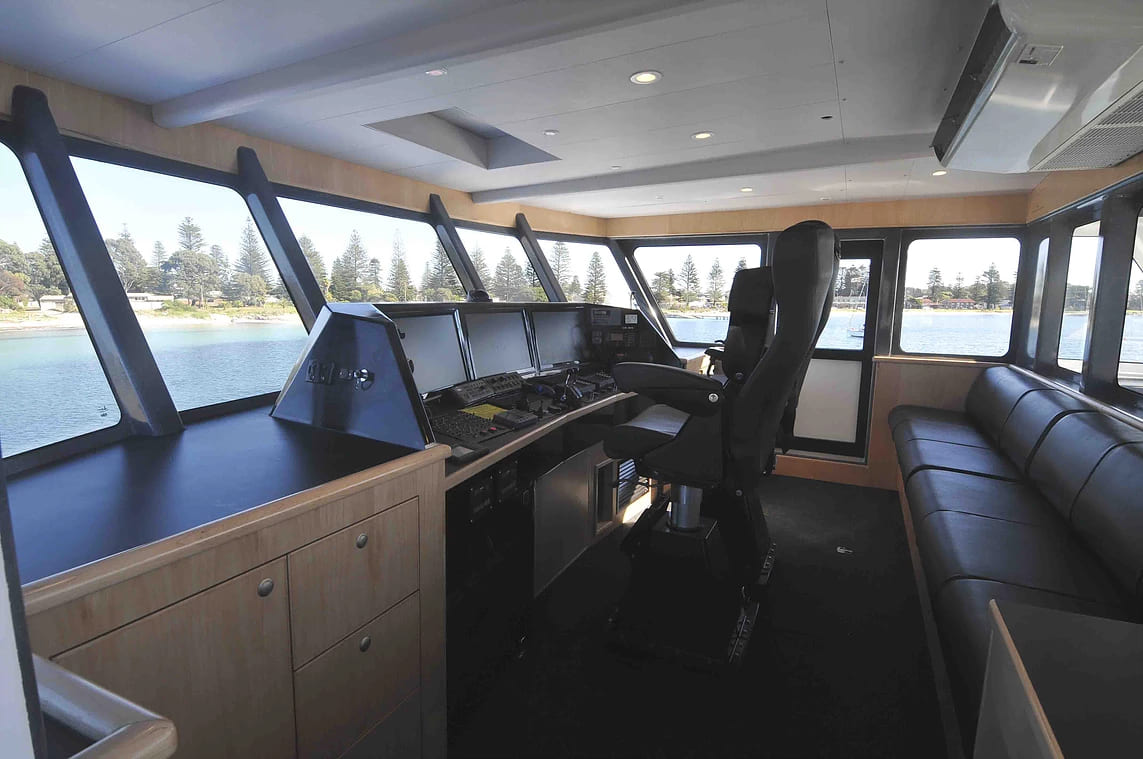 We can carry 90 passengers and crew, but have only a maximum of 50 passengers on any Bremer Canyon Killer Whale Expedition and keep under the limit on any Whale Watching Eco Experience which leaves plenty of room for all.
'Alison Maree' is suitable for all ages*, and can accomodate wheelchairs and prams on board. For more specific information about accessing and moving around the vessel, please see our FAQ section to help you decide whether an expedition or tour can accomodate your specific needs here, or call our friendly team at the office.
Minimum age for Bremer Canyon Killer Whale Expeditions is ten (10) years.
'Alison Maree'has the highest West Australian Survey category possible (1B) and is one of the only whale watching vessels in the South West that complies with the new National Standards for Commercial Vessels.
As well as the required safety equipment, we go the extra distance to ensure your safety and comfort, supplying self-inflating PFD's for every passenger in addition to the required emergency life jackets. Comfortable enough to wear all day, these will not inflate unless you are in the water. They ensure complete peace of mind and comfort to all passengers, and are especially welcomed by those that are not familiar with being on the ocean and those who do not swim well.
Our comprehensive safety equipment includes:
AIS vessel tracking system, records vessel location at all times and is monitored by AIS Canberra
Lifejackets, adult and children's sizes
Additional self-inflating PFD's.
Radar
4 self inflating life rafts with 25 person capacity and EPIRBS and first aid kits
Fixed fire suppression system
Offshore flare and signals kit
VHF and UHF radios
Satellite communication system
First Aid Equipment:
Scale D offshore medical chest
OXY-VIVA medical oxygen resuscitator
Defibrillator
Medivac stretcher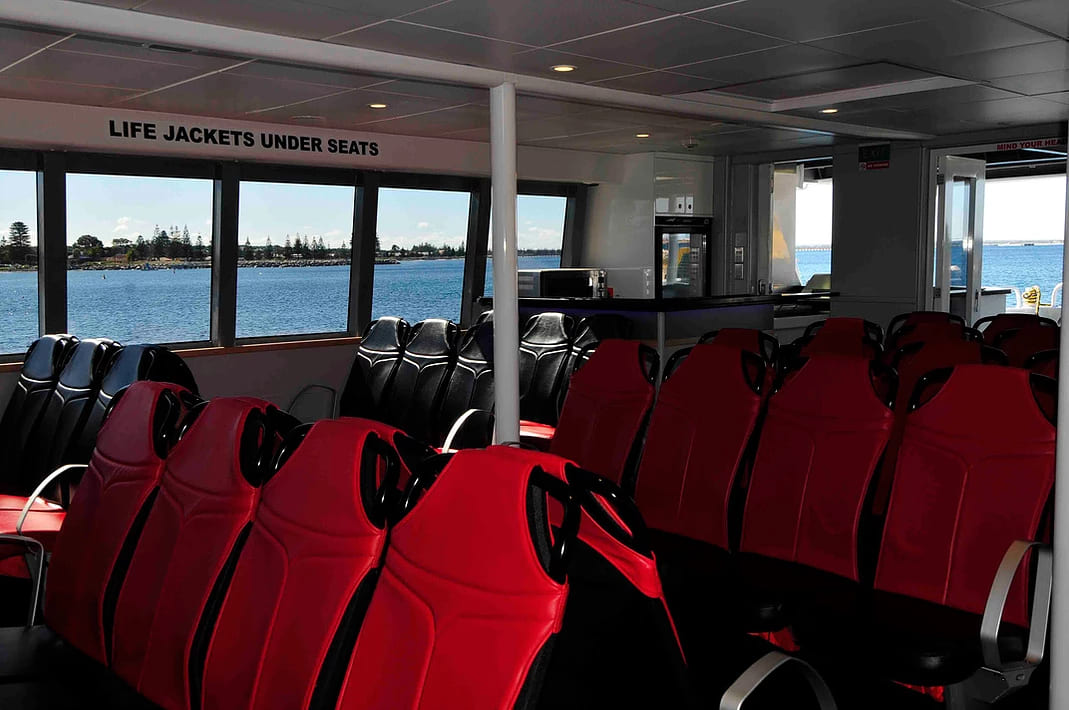 'Indi Maree' – Our Tender
Indi Maree is a 5.8m hornet wide-bodied tender vessel. We are proud that she is powered by a 40hp outboard engine which has the lowest emissions rating on the market. Naturaliste Charters strive to make our tours accessible to everyone, and Indi Maree was purpose built with this in mind, including special loading capacity and safe handrails throughout for passenger transfer.
The 'Pig'
Neither her name or her job are beautiful, but we are as proud of The Pig as any vessel in our fleet. We operate in stunningly beautiful but very remote locations with little or no infrastructure. We commissioned this service tender to ensure that there is no impact on our pristine operating environments when our vessels are refuelled. The Pig has electronic fuel pumps and is self-bunded, which ensures that even in the event of a spill it is completely contained and will never enter the ocean.