Whale Watching in Augusta – Embark on the Adventure of a Lifetime
Pioneers of Augusta Whale Watching Tours

Qualified Marine Biologist Onboard

Over 700+

TripAdvisor Reviews

Morning and Afternoon Tea Served On-Board

Premium Whale Watching Vessel

Family Owned & Locally Operated

100% Safety Rating
Experience Unforgettable Whale Watching in Augusta with our Expert Crew
Our thrilling Whale Watching Tours in Augusta operate from May through to August, with daily departures from the Augusta Boat Harbour. Our tours depart at 10am & 2pm daily and are approximately 2 – 2.5 hours long. Immerse yourself in a family-friendly experience like no other with our whale-watching guarantee, guided by our expert crew, aboard our beautiful, modern purpose built tour vessel.
We are passionate about everyone getting to witness the beauty of Augusta whales, which is why we offer our Whale Watching Guarantee!
We have a strong 99% whale sighting success rate across our tours, however, on the small chance you don't get to see whales, we welcome you to join us for another tour for FREE. T&C's apply see our No Whale Sighting Policy.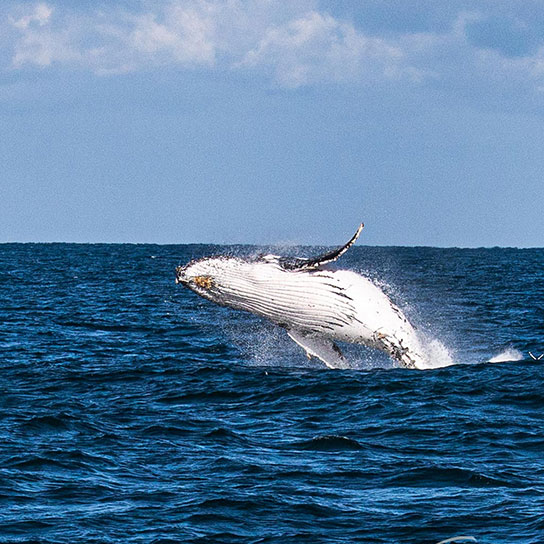 Daily Whale Watching Augusta Tours & Guaranteed Whale Sightings
We are able to offer this guarantee due to the remarkable vantage point that Augusta offers; a coastal town that marks the juncture of two oceans, and the path that whales take when they make their journey north in migration!
Book your tour for Whale Watching in Augusta with confidence knowing that you will get the once-in-a-lifetime opportunity to see whales in their natural habitat.
What can I expect on my Whale Watching Augusta Tour?
From the moment you step onboard your Whale Watching Augusta Tour, prepare to be immersed in the world of the awe-inspiring Humpback and Southern Right Whales (the most common whales to sight!).
Our exclusive onboard multimedia presentations provide you with fascinating background knowledge about these marine giants, accompanied by our crew's expert commentary. Read More…
With Augusta's prime location, you won't have to wait long to see the stars of the show. Most tours sight whales within minutes of departing from Augusta Boat Harbour, meaning less travel and more thrilling whale encounters in the serene waters of Flinders Bay!
Our Whale Watching Augusta Tours also include morning or afternoon tea, offering a choice of tea, coffee, Milo, and refreshing filtered water along with biscuits. We are dedicated to conserving the beautiful environment we operate in, so we encourage you to bring your own drink bottle and keep cup for refills on board. Soft drinks are also available for purchase.
Augusta Whale Watching Tour

Departure Time: Departing 10am & 2pm daily
Duration: 2.0 hours Please allow up to 3 hours depending on wildlife sightings
Inclusions: Morning or Afternoon tea
There is Complimentary tea, coffee, milo, filtered water green tea and biscuits available on board.
Soft drinks and additional snacks are available to purchase.
We encourage you to bring your own drink bottle or keep cup if you can, to minimise the use of disposable cups.
Bonus inclusions: Join Naturaliste Charters on a Whale Watching tour and receive 20% off Lunch or Dinner at Augusta Hotel, 15% off at the Equinox Bar & Cafe Busselton OR 15% at Occy's Dunsborough
Please arrive at the departure point 15 – 30 minutes before the scheduled departure time so we can board all passengers and depart on time, which means more time with the whales!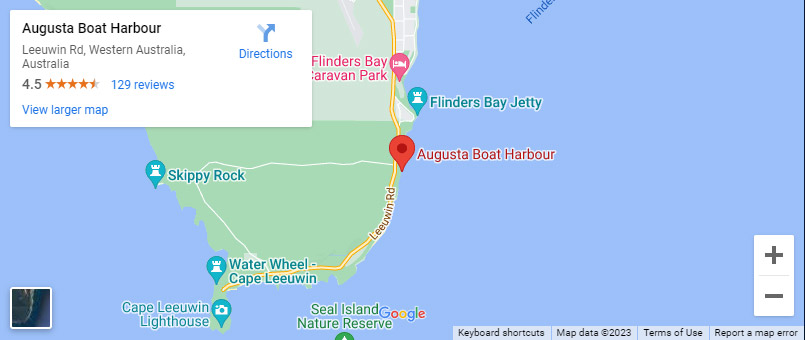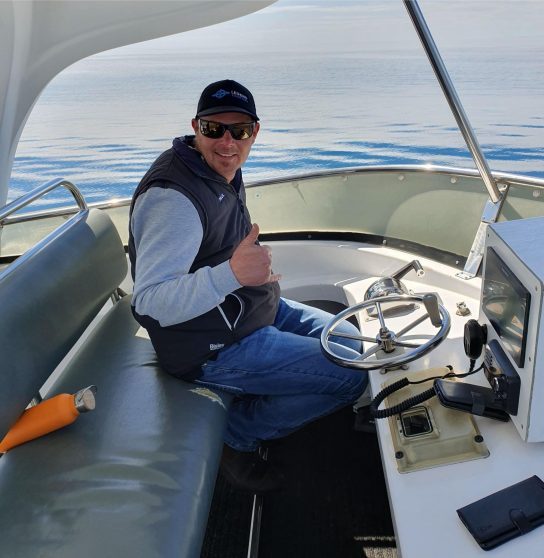 Passionate & Professional Crew
Whale Watching in Augusta with family-owned Naturaliste Charters means entrusting your journey to the pioneers of whale watching in the Southwest, and a team of dedicated and passionate crew members. Our team comprises seasoned marine experts with over 30 years of experience, who share a profound love for the ocean and its incredible inhabitants.
Our crew members aren't just trained professionals; they're enthusiasts who bring a deep-rooted passion for marine wildlife, a wealth of knowledge and a unique, infectious enthusiasm to every tour. Read More…
Each member of our crew is committed to providing you with a safe, engaging, and educational experience. Onboard, they ensure your comfort and safety while creating a journey filled with captivating stories, fascinating facts, and guidance to the best spots for observing these magnificent giants.
With our crew, your Augusta Whale Watching tour is more than just a sightseeing trip. It is an immersive, educational adventure and an unforgettable encounter with the wonders of the ocean.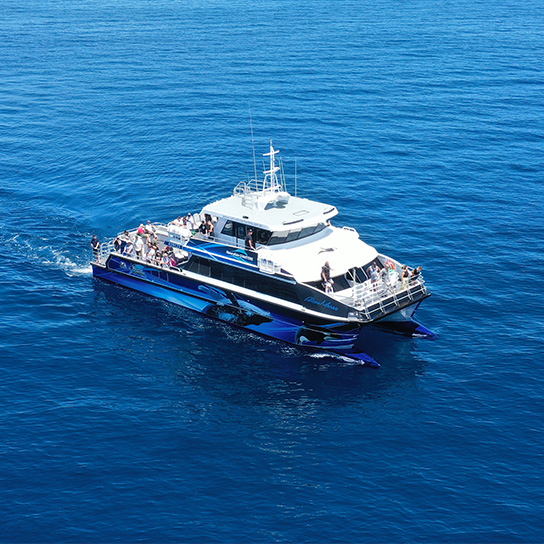 Experience Luxury & Comfort Aboard the Alison Maree
When you step onboard our beautiful vessel, you'll experience a modern, spacious and luxurious 23M catamaran, providing the ultimate in stability, comfort and safety.
This means that you'll embark on a trip that is as comfortable as it is unforgettable, and makes the Alison Maree a popular choice for all ages and mobility levels.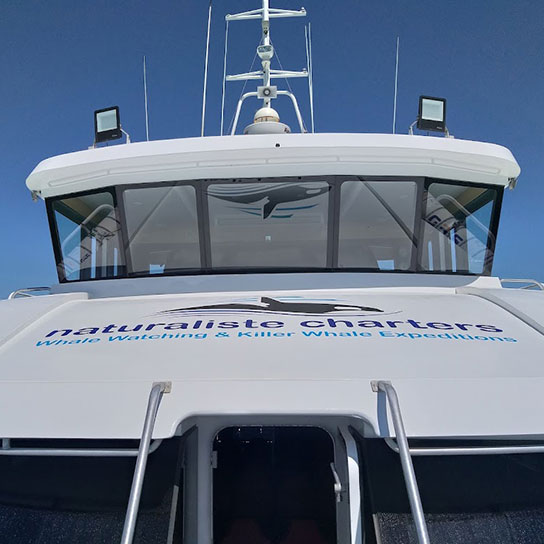 The Perfect Vessel for Whale Watching in Augusta
Spot wildlife on the bow or from the huge upper and lower rear decks, or try all three! Alternatively, feel like a VIP and join the skipper in the comfort of the air-conditioned wheelhouse with uninterrupted 360-degree panoramic views.
Downstairs you can relax in the spacious and comfortable air-conditioned main saloon where seat-to-ceiling windows ensure excellent wildlife viewing in comfort. Read More…
Our tour vessel is perfect for families, offering:
Life jackets for the whole family, including infants for peace of mind
Handrails suitable for children around the whole vessel
Plenty of space to bring your stroller onboard
2 x modern toilets with hand washing facilities – 1 suitable for wheelchair access
Baby change table
Access to hot and cold filtered water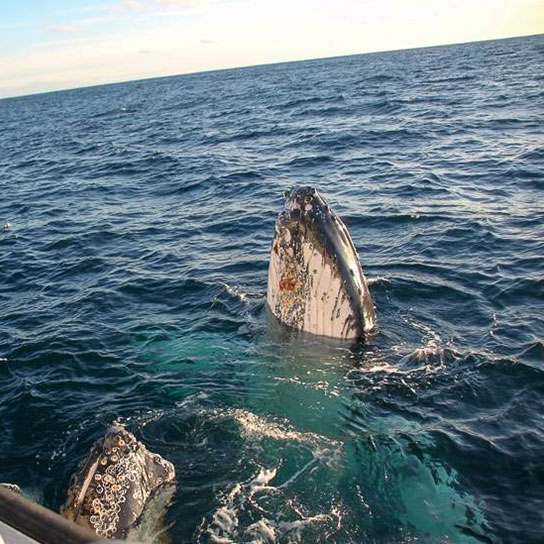 Whales We Might Encounter
HUMPBACK WHALES: Competitive, curious, and acrobatic, humpback whales are one of the most spectacular whales to watch. A face-to-face encounter with an animal 200 times your size is an unforgettable experience. Hear thunderous slaps from flippers weighing several tons. Watch in awe as a whale weighing 40 tons rockets from the ocean in a spectacular breach, trailing sparkling streams of seawater before crashing back into the sea in a storm of white water. Read More…
SOUTHERN RIGHT WHALES: Delight in the sight of Southern Right Whales and their newborn calves, one-ton babies born in the bay from July – August. Each addition inspires hope for the future of the most endangered of the great whale species as they play and grow in preparation for their first migration south.
MINKE & BLUE WHALES: Rare minke whales, and the largest animal to ever have lived, the blue whale, are sometimes seen on our tours.
Keep a close lookout for sea eagles and osprey soaring above the cliffs, pods of dolphins surfing the bow wave, the local seal colony, albatross wheeling on the wind and shearwaters skimming the swells.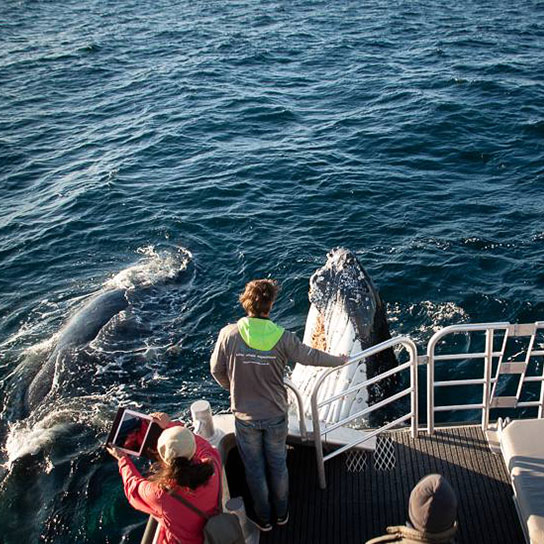 Please Take Into Consideration
• All Whale Watching Augusta tours are subject to weather conditions, our friendly office team will contact you in the case of cancellation, please make sure your contact details are correct.
• Please arrive 15-20 minutes before your departure time for boarding, if you are not there on time the vessel may leave without you, in this instance no refunds apply.
• If you know you experience seasickness or you are not too sure please visit your local chemist and speak to the pharmacist for some advice on what could be suitable for you. Read More…
• It is possible to welcome passengers in a wheelchair on board for a Whale Watching Tour but there are some limitations, please contact our office prior to making a booking.
We can't wait for you to join us for an unforgettable Whale Watching Augusta experience!