Pioneers of Whale Watching in the South West including the Bremer Bay Killer Whale Expeditions
Naturaliste Charters: Our Story
Naturaliste Charters is a family owned business and proudly stands as the pioneers of whale watching in the South West region of Western Australia, leading the way in offering unforgettable Whale Watching experiences for more than three decades.
Beyond our groundbreaking efforts in the South West, we are also the visionary founders of the Bremer Canyon Killer Whale Expedition, a venture that has redefined wildlife tourism. This pioneering expedition, born from our passion for marine conservation and education, has allowed us to share the awe-inspiring spectacle of Bremer Canyon's killer whale gatherings with the world. Even better, we boast the highest success rate in the world for seeing Killer Whales.
We continue to set the standard for ethical and responsible whale watching, shaping the industry and inspiring others to join us in celebrating the wonders of our oceans.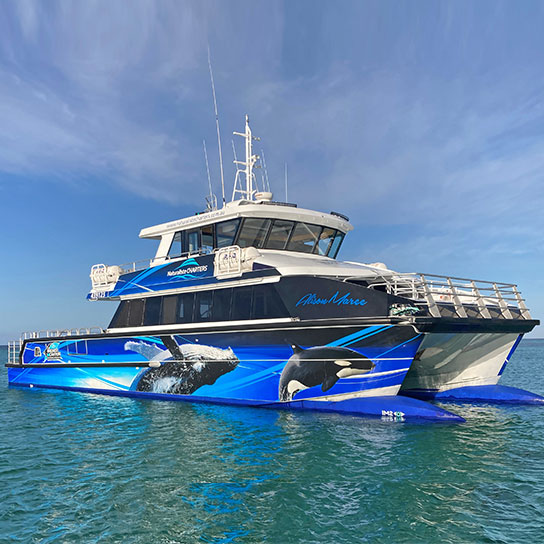 The Ultimate Whale Watching Vessel
The Alison Maree is undoubtedly the ultimate whale watching vessel for a myriad of compelling reasons. Its recent upgrades are nothing short of remarkable, we've achieved boosted fuel efficiency by integrating bulbous bows, and improved aerodynamics that guarantee a gentler, more seamless, and remarkably stable ride. The addition of a 2-metre stern extension with drop-down viewing platforms and a spacious rear lounge guarantees an unforgettable passenger experience, bringing you closer to the wildlife while maintaining ultimate safety. The vessel also boasts non-slip Deck Armour decking for safety and comfort, noise reduction, and a more appealing aesthetic. The transition to a 24-volt lighting system and the installation of electric thrusters minimizes environmental impact, resulting in reduced fuel consumption and noise pollution. Read More…
Moreover, the Alison Maree's commitment to eco-benefits, including substantial fuel savings, longer engine life, and minimized disturbance to wildlife, showcases our dedication to responsible whale watching. To top it off, the vessel has been fine-tuned with cosmetic improvements and increased seating capacity, ensuring that passengers enjoy an exceptional and comfortable journey while respecting the environment.
Unmatched Expertise
We employ local, expert and passionate staff from with-in our region. We boast a team of seasoned marine biologists and dedicated crew with an in-depth understanding of the region's marine life. Our guides are passionate experts who transform your tour into an educational, inspirational journey, enhancing your connection with the majestic whales.
Exclusive Access
We're renowned for our insider knowledge about the best whale sighting locations throughout the South West. Naturaliste Charters' access to long standing data and local contacts means we consistently lead the way in spotting whales & marine life. Choosing us maximizes your chance of up-close encounters with these magnificent animals.
Ethical and Sustainable Practices
Our commitment to responsible whale watching is unwavering. We prioritise the welfare of the whales and the marine environment. Naturaliste Charters strictly adheres to eco-friendly guidelines, ensuring minimal disturbance to the whales and their natural behaviours.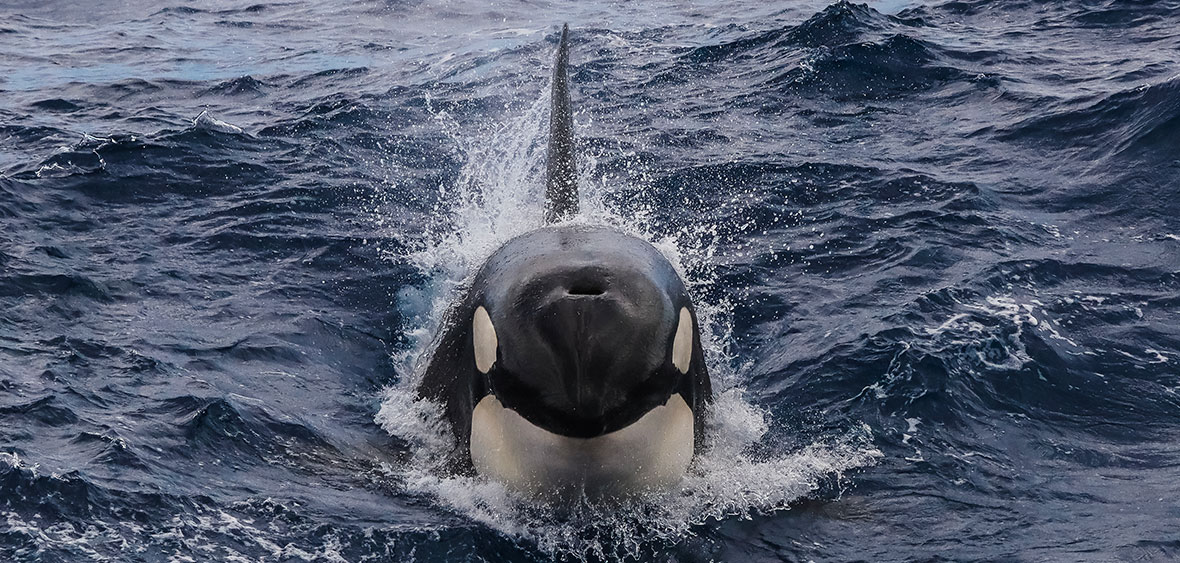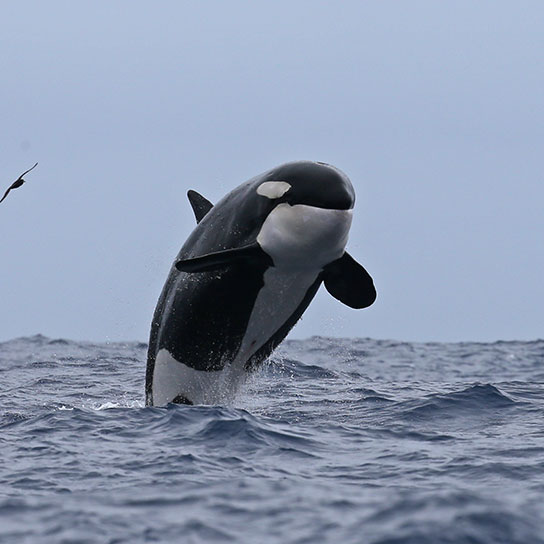 Personalised Experiences
We recognize that every whale watching excursion is unique. Whether you're a seasoned enthusiast or a first-time adventurer, our tours cater to all levels of interest and knowledge. Our guides' passion and dedication ensure you leave with not just memories but a profound appreciation for marine life.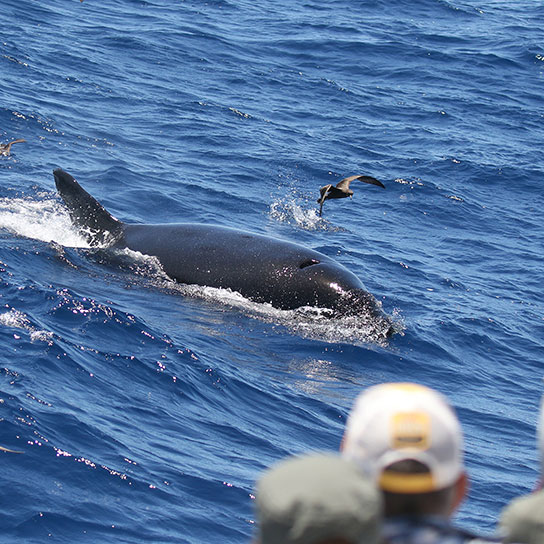 Commitment to Research & Conservation
Naturaliste Charters is committed to marine conservation and pioneering research. Our dedication to preserving marine ecosystems is at the core of our ethos, driving us to actively engage in conservation efforts. One of our hallmark programs, the Bremer Canyon Internship, embodies our passion for nurturing the next generation of marine conservationists.
Read More…
This exclusive internship offers a hands-on, immersive experience, allowing participants to work closely with our experienced team and renowned researchers. Through this program, interns engage in critical research initiatives, data collection, and conservation activities, actively contributing to the protection and understanding of marine life. Choosing Naturaliste Charters means aligning with an organisation deeply rooted in conservation and research, where every individual contributes to the greater cause of preserving our invaluable marine ecosystems.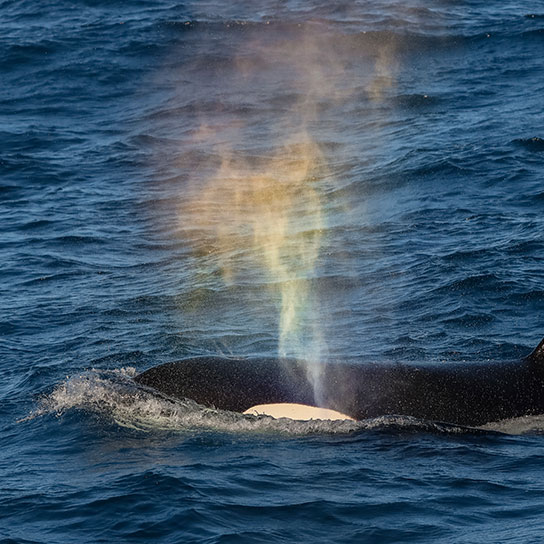 Supporting Local Businesses
At Naturaliste Charters, we proudly support local businesses. We believe in the strength of our community and actively support local suppliers, from sourcing our onboard catering from the local Bremer Bay Museum Café to collaborating with nearby businesses for our operational needs. By partnering with regional vendors, we not only ensure top-quality services but also contribute to the vibrant economy of our area. Choosing Naturaliste Charters means choosing a company deeply committed to supporting and uplifting our local community.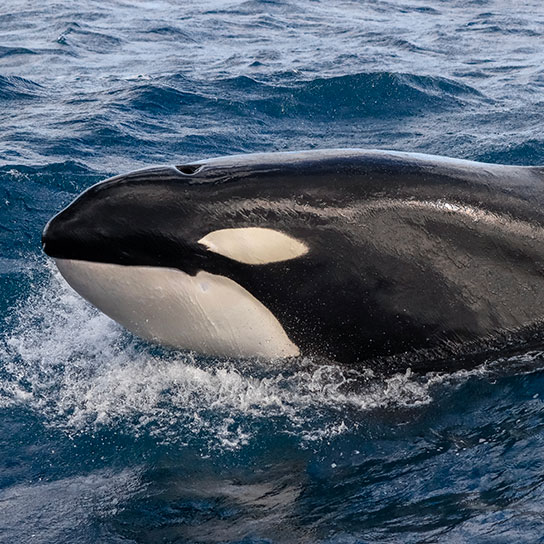 We look forward to welcoming you on board
A whale watching excursion is more than just a tour; it's an opportunity to connect with nature in its grandest form. We strive to guarantee that your experience is nothing less than exceptional. By selecting Naturaliste Charters, you not only ensure an unforgettable encounter with whales but also contribute to a sustainable tour operator deeply committed to preserving the marine environment.
Are there any age restrictions for whale watching tours?
Our Whale Watching tours departing from Augusta & Dunsborough are family friendly and open to all ages. There is however a minimum age of 10 on board our Bremer Bay Killer Whale Tours.
How close can we get to the whales?
Regulations and respect for wildlife dictate that vessels should maintain a specific distance from whales to avoid disturbing them. The exact distance can vary by location and regulatory bodies. Rest assured that your Naturaliste Charters crew are always up to date with the latest regulations and recommendations to make sure we leave as little environmental footprint as possible.
What happens if we don't see any whales?
You can confidently book a whale watching tour in Western Australia with us, thanks to our Whale Watching Guarantee. While we have a strong 99% whale sighting success rate, in the unlikely event that we don't spot any whales, we invite you to come on another tour with us for free. To learn more, please read our No Whale Sighting Policy.
What should I bring on a whale watching tour?
Dress in layers as it can be colder at sea than on land. We recommend you bring sun protection (sunglasses, hat, sunscreen), a camera, binoculars for better viewing, and a reusable water bottle and keep cup.
What happens if I don't see any whales?
With a 99% success rate, it would be very unlikely not to see any whales. But in case you don't see any, we invite you to come on another tour with us for free. To learn more please read our No Whale Sighting Policy.
What should I bring on a whale watching tour?
Dress in layers as it can be colder at sea than on land. We recommend you bring sun protection (sunglasses, hat, sunscreen), a camera, binoculars for better viewing, and a reusable water bottle and keep cup.
Can I go whale watching if I get seasick?
Yes, if you take precautions you can still enjoy whale watching if you suffer from seasickness. If you're prone to seasickness, it may be helpful to take anti-seasickness medication before your trip, following the instructions on the packaging. Additionally, staying outside in the fresh air, keeping your eyes on the horizon and towards land, and avoiding heavy meals before the tour can also help.
How long does a whale watching tour last?