WHERE TWO OCEANS MEET
Location | Augusta
AUGUSTA, WESTERN AUSTRALIA – Winter Whale Watching
How to get to Augusta
The picturesque seaside town of Augusta is located on the south-west coast of Western Australia. It is approximately a 3.5 hour drive south from Perth. Augusta is at the southern end of the world-renowned Margaret River Wine Region. The best way to travel is via car or bus. Enjoy the scenery and keep an eye out for the wildlife as you make your way down to this beautiful coastal town.
Some Fun Facts About Augusta
Augusta is well known as the place where two oceans meet. Here you can experience seeing both the Indian & the Southern Ocean
The Cape Leeuwin Lighthouse is situated at Augusta. This lighthouse is the tallest lighthouse on mainland Australia and stands at 39M tall! The local Margaret River Tourism Bureau offer tours to climb the Leeuwin Lighthouse, once your at the top keep an eye out as you will most likely be able to spot some Humpback or Southern Right whales! (When in season)
Augusta is apart of the beautiful Margaret River Region, a region that is abundant with award winning wineries, breweries and restaurants. There are many stunning caves to explore including the Jewel, Mammoth, Ngilgi & Lake Cave. Epic surf beaches are available all within a close drive to Augusta.
Augusta Whale Watching Experience
Augusta is the best location in Western Australia to view humpback and Southern Right Whales during the winter as they make their northern migration through the Ngari Capes Marine Park. From late May, Flinders Bay, Augusta is misted with the constant blows of these magnificent ocean wanderers as they pause to rest and socialise. Males compete for the attention of females and engage in a spectacular variety of active behaviour that includes breaching and the thunderous slaps of tails and flippers. Rare Minke and Blue Whales are also sighted as they too head north.
From July, another spectacular cetacean arrives. Flinders Bay is one of only a handful of major calving areas along Australia's coastline for the endangered Southern Right Whale. In the shallow protected waters of the bay, the next generation is born. The whales rest and play in the bay before their epic crossing of the Southern Ocean to the feeding grounds of Antarctica as winter slips into spring.
How Can I See Whales in Augusta?
Whales including the Humpback Whale & Southern Right Whales can often be sighted from shore. Perhaps this is one of the reasons why so many Augusta locals call this stunning town home as they are graced with the beautiful sights of resting whales in the bay.
Although seeing whales from the shore is great and doesn't cost you anything, ultimately, the best way to see them is by joining us on a tour. Our expert crew will get you a nice close view, all whilst respecting their space and following the Departments of Parks & Wildlife's whale watching guidelines. Not only will you enjoy the close interaction with the whales in Augusta but you will also get to enjoy being on board our stunning vessel "Alison Maree" and be treated to an informative & fun commentary.
Our Augusta Whale Watching experience tours depart 10am & 2pm daily from May – August and are approximately 2.5 hours long. There isn't a lot of travel time required to get out to see the whales as they are all generally found in the bay, meaning more time with the wildlife!
Some handy tips when joining us on an Augusta Whale Watching tour

Pre-bookings are highly recommended, this gives us the ability to notify you of any weather alerts prior to your preferred tour time and also secures your seats
Winter in Augusta can be a little bit wet & cold. Please make sure you wrap up warm, wear a rain proof jacket and a beanie. If you're well prepared then this will ensure you can make the most of witnessing the majestic whales in Flinders Bay in comfort!
Sea-sickness tablets are highly recommended… Unfortunately, sea-sickness can occur which could cause some discomfort. If you are unsure about how good your sea legs are then we recommend taking the precautions. Sea-sickness tablets can be purchased from your local pharmacy without a prescription. Please talk to the pharmacist and they will be able to recommend a brand suitable for you.
Please arrive 20 minutes early for boarding. If you are joining us for a 10am tour you need to be there by 9.40am as this ensures enough time for boarding the vessel and for our crew to complete their safety briefings. Please don't be late, the boat can't wait!
If you have a drink bottle and keep-cup, bring these along to help us reduce our waste. We have filtered water and provide tea, coffee & milo as part of your tour. By bringing your reusables along, you are helping keep waste from landfills.
Where to eat & drink in Augusta
Augusta has a great selection of places you can go to eat & drink; from the Deck Chair Café for a yummy fresh lunch, the bakery for your sweet tooth or savoury fix, to the Augusta Hotel for that pub meal we all crave every now and then. One of our crews most favourite places to eat is the Blue Oceans Fish & Chip shop on Blackwood Ave. Our crew believes that nothing can really beat the delicious fish burger from Blue Oceans, even better knowing that their fish is all caught locally, YUM!
Departure Point – Augusta Boat Harbour Lot 4126 Leeuwin Road, WA 6290, Australia
The Augusta Boat Harbour is located on Flinders Bay, approximately 4.5km south of the town of Augusta is a real asset to the town. The $36.5 million harbour was built and opened to the public in 2014. This large facility has a large car park when you can safely leave your vehicle whilst you join us on our Augusta whale watching experience tour (free of charge parking) there are toilets & showers available also.
The Augusta Boat Harbour is located by Ocean Grown Abalone, some of the best Abalone is found right here in the waters of Flinders Bay, you can enjoy this cooked fresh at the local Colourpatch Café in Augusta.
Departure Point
Augusta Boat Harbour. Located on Flinders Bay, approximately 4.5km south of the town of Augusta.
Follow Leeuwin Road south through Augusta for approximately 5 min.
Augusta Boat Harbour, Lot 4126 Leeuwin Road, WA 6290, Australia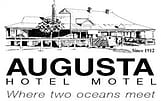 Augusta Hotel
The Augusta Hotel was built in 1912, the Augusta Hotel boasts one of the best views of any hotel in Western Australia. It has a superb riverfront location high on the banks of the Hardy Inlet, where the Blackwood River meets the Southern Ocean. If you're looking for accommodation with spectacular views and a central location, then this is the place for you. The Hotel is a family oriented and child friendly establishment featuring a lounge bar with bistro meals, Jimmy's Grill, function room and very large grassed outdoor area. The perfect place to watch the whales go by and let the kids run free.
WINTER SPECIAL: Stay 3 nights pay 2 for Winter months. Contact the Augusta Hotel directly to book
Telephone: +61 8 9758 1944
Email: info@augustahotel.com.au
Website: https://www.augustahotel.com.au/
When joining Naturaliste Charters on a whale watching tour you are entitled to a 20% discount off lunch or dinner at the Augusta Hotel