Bremer Bay, a small coastal town in the Great Southern Region of Western Australia is the only location in the whole of Australia where you can reliably encounter the Killer Whales (Orca). Naturaliste Charters are the founders of these Bremer Canyon Killer Whale (Orca) Expeditions and we would like to share some top tips with you!.
If you are joining Naturaliste Charters for an Bremer Canyon Killer Whale (Orca) Expedition in 2020 here are some things to know!
1. We "Naturaliste Charters" are the Founders of the Bremer Canyon Expeditions
Naturaliste Charters are the founders and most experienced operators of the Bremer Canyon Killer Whale Expeditions. Expeditions first commenced on the 31st January 2015. Our very first season only went for 2 months, over the past 5 years we have extended our seasons by a few weeks at a time and we are now running successful expeditions from January – April. if you are interested in joining an expedition please book directly at naturalistecharters.com.au
2. Departure times
Expeditions commence on the 2nd January and depart daily through till April.
3. Peak Orca time
The peak orca time really does not exist, the whole period of January – April is pretty amazing however some days the marine life just don't want to 'play' or participate which is why we have a No Whale Policy.
4. Sea Sickness tablets
Please swallow your pride and take them! This is a full day expedition on the Southern Ocean, sea sickness does occur, however if you are prepared you can really minimize the risk of falling unwell. Please seek advice from your local pharmacist.
5. Catering is provided
ALL dietary requirements are catered for, please just advise us when booking of any requirements you may have. Our friends at the Wellstead Cafe & Museum supply us with the scrumptious catering, please pop in and say hi to them whilst you are in town, I am sure they would love your support.
6. Keith Lightbody's top photography tips
Keith is a well respected Photographer who has kindly volunteered with Naturaliste Charters since expeditions were established in 2014. Keith has provided us with his top camera setting tips, check them out here!
7. Pre Book your accommodation!!
This is VERY IMPORTANT.
Bremer Bay is absolutely beautiful, but it is small and semi remote and accommodation options are limited, especially during Killer Whale season! Please do not think that you can arrive into town and book something on the spot, yes there will certainly be times that this is possible, but there is times that it's not. Please be prepared! You can check out some of our accommodation recommendations here.
8. We are not the only operators…
Another company has begun Orca tours in Bremer Bay, and as much as we are different we also look very similar, and we can not express the importance of booking direct enough!!! On several occasions we have had several upset passengers as they have realised they have booked on the wrong boat. We have had scenarios of a wife on 1 boat, the husband on another, groups of friends split between the vessels even repeat customers who love and join us every year have even made the mistake of booking on the wrong boat, to avoid the distress, the tears and disappointment please always look out for our logo on the website and our name, NATURALISTE CHARTERS, if you have seen a cheaper price please call us, we will match it!
9. Things to do whilst you are in Bremer Bay
So you have done the right thing and allowed flexibility for whilst you are in Bremer Bay, but now you are wondering what you can do, check out some of our recommendations.
Fitzgerald National Park
Wonderful walks, scenic drives, diverse landscapes and more, the Fitzgerald National Park is one of the largest and most beautiful national parks in Australia and is definitely worth a visit!
Wellstead Heritage Museum
This wonderful museum is situated at the Wellstead cafe. This is the perfect spot to stop in for a beautiful lunch or breakfast (their panko eggs are AMAZING!) After your food enjoy a wander through the historic museum, there is generally something there that appeals to everyone.
Gnornbup Wines
Gnornbup Wines is the Great Southern's most eastern vineyard. Located in beautiful Bremer Bay, where the strong coastal influence has created a unique micro-climate. Their winery and cellar door are exceptional and are definitely worth a visit.
Point Ann
The perfect location for a picnic with a stunning view, or if you are feeling up to it there is a few great bush walk's. There is a 400m loop if you are after something short and quick, or if you are a bit more energetic and have extra time to burn there is also a 12km option.
Bremer Bay Brewing Company
The Bremer Bay Brewing Company is still under construction, however the progress looks amazing, we are sure this is going to be a popular option for many of our guests throughout the season, keep an eye on their Facebook page for the latest updates.
10. Our vessel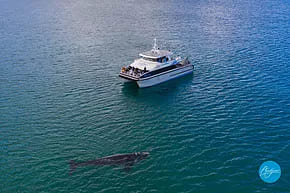 Our 2.5 million dollar vessel Alison Maree is a 20M Catamaran and was built in Western Australia specifically for the Southern Ocean. She has a passenger capacity of 90 but passenger numbers are capped at half of that to allow ample viewing opportunities and comfort. Operating so far off shore we can guarantee safety is our number 1 priority. The Alison Maree goes through a full refit prior to the season commencing and regular maintenance is conducted as per the recommended engine servicing guidelines. The Alison Maree has modern toilet facilities, filtered water, tea and coffee station plus so much more. This vessel is the safest vessel in the region for the type of expeditions we are conducting, you may see other vessels that look 'nicer' but they weren't built for the conditions of the Southern Ocean, they are better off doing luxury river cruises, choose safety over looks!
11. Have fun, you are in safe expert hands!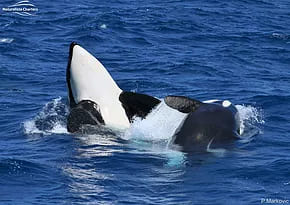 Naturaliste Charters are the most experienced operators, our orca expeditions run with a 100% safety record, you are in SAFE expert hands. Regular training and safety drills are conducted and our team are the best of the best! Book your expedition, follow our tips and tricks and you will have an amazing time. Check out our website for more information or you are welcome to contact our friendly office team at any time on 08 9750 5500 if you have any questions, we would love to help. Thank you for reading, we look forward to welcoming you on board.