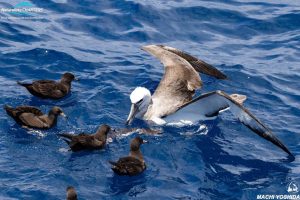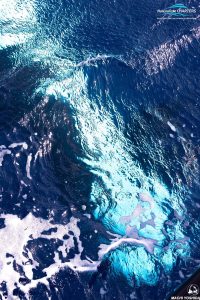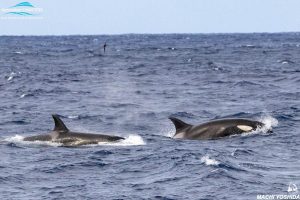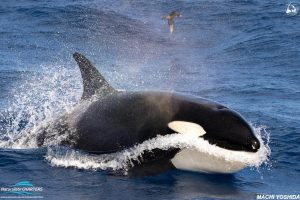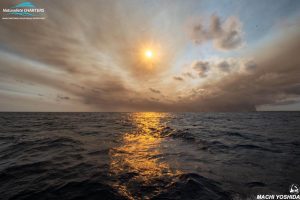 With the summer storm cracking lightning onto the Dillon Bay Area, the township of Bremer and the surrounding farm land has been under a watch and act fire warning! The wind was at first the biggest threatening factor but as the weekend progressed it became our saviour.  
 
The action out in the hotspot this morning was few and far between. With keen eyes looking onto the water, we were left with only fleeting glimpses.  
We were kept entertained by a raft of seabirds pecking at a half eaten, dead, deep-sea green-eyed shark! Watching them try pull off pieces, drop it and have to duck-dive to pick it back up again was a sweet relief.  
Our passengers patience paid off with an exceptional interaction with El Notcho and his family.  
The first surface they were right on our bow! Passing in what felt like slow motion. Oreo deviated from the group to come for a closer inspection.  
With this behaviour carrying on for the afternoon, a very late surge left the crew thinking they were about to make a kill! No prey insight they went back to cruise mode.  
The scenes coming home this afternoon were spectacular! The easterlies blew the fire backwards onto itself and with further back burning taking place by the firefighter. With the threat of danger gone we were able to fully take in the size of the fire and it's ferocity after a big day out on the water.