Located along the picturesque south west coastline of Western Australia, the charming town of Dunsborough invites wanderers with its awe-inspiring coast lines, unspoiled beaches, and inviting turquoise waters. Positioned within the captivating embrace of the Margaret River region and only a 20 minute drive from Busselton or 3 hour drive from Perth, this enchanting town has established itself as a sought-after coastal haven, attracting globetrotters far and wide who yearn to immerse themselves in the tranquillity of Dunsborough's serene beaches and the diverse array of aquatic pursuits they provide. Within the confines of this blog, we shall delve deeper into the magnetic appeal of Dunsborough's shorelines, explore its distinctive characteristics, and uncover the thrilling escapades that await!
Dunsborough's Coastal Charm
Dunsborough's coastal location is a magnet for those seeking relaxation in the lap of nature's beauty. The stunning Dunsborough beaches are renowned for their fine white sands, crystal-clear waters, and the captivating landscapes that surround them. What makes these landscapes even more captivating is the show of colour that is lit up around the coastline during the Spring Wildflower season. As part of the Margaret River region, Dunsborough enjoys the privilege of being nestled within a diverse ecosystem that seamlessly blends the stunning coastline with the lush landscapes that surround it.
Most Dunsborough beaches are a part of the beautiful Geographe Bay and are an ideal destination for families with young children, providing a perfect blend of natural beauty and family friendly amenities. With the thoughtful combination of tranquil waters, breathtaking scenery, and convenient facilities, Dunsborough's beaches offer a wonderful setting for unforgettable moments for all who wish to enjoy it.
Top Beaches in Dunsborough
Dunsborough boasts a collection of pristine beaches, each with its own unique charm and offerings all within easy access if you have a car. Here are a few of the standout options: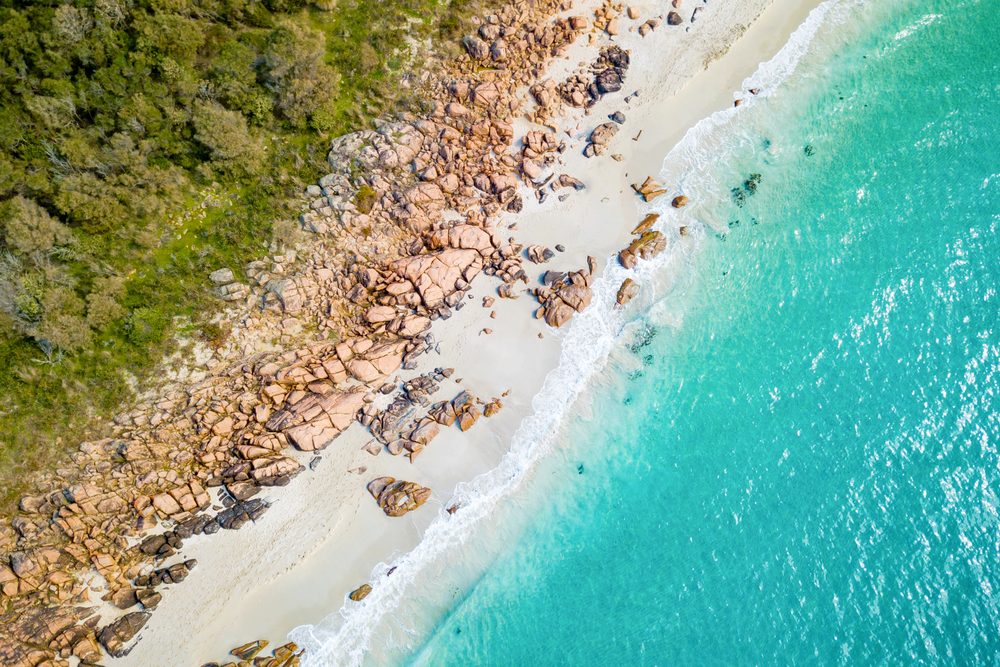 Known for its calm and clear waters, Meelup Beach is the perfect base to set your family up for the day. The shores offer soft sands and gentle waves, creating a safe and inviting environment for kids to play and explore. The shallow waters allow for worry-free paddling and swimming, ensuring that parents can relax while their little ones enjoy the coastal delights. The calm waves also make it an ideal spot for snorkelling and paddle boarding, while the shady picnic areas and barbecue facilities offer the perfect setting for a relaxing day out. This is one of the best beaches in Western Australia.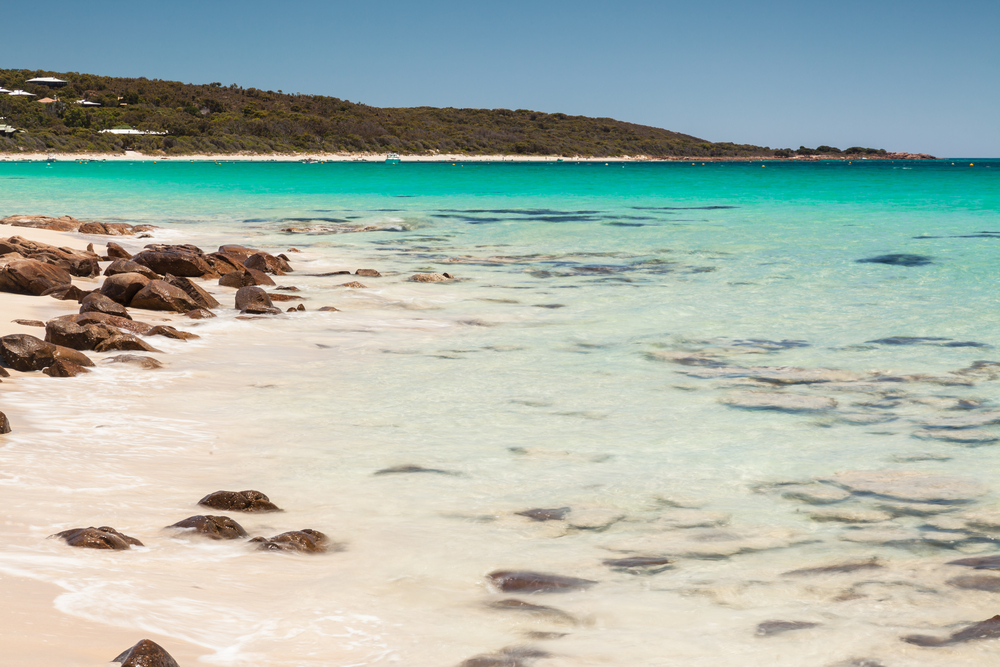 For those seeking a touch of luxury, Eagle Bay delivers. This beach offers dazzling turquoise waters, perfect for a refreshing swim. The surrounding area features upscale vacation homes and a park, making it a great location for picnics.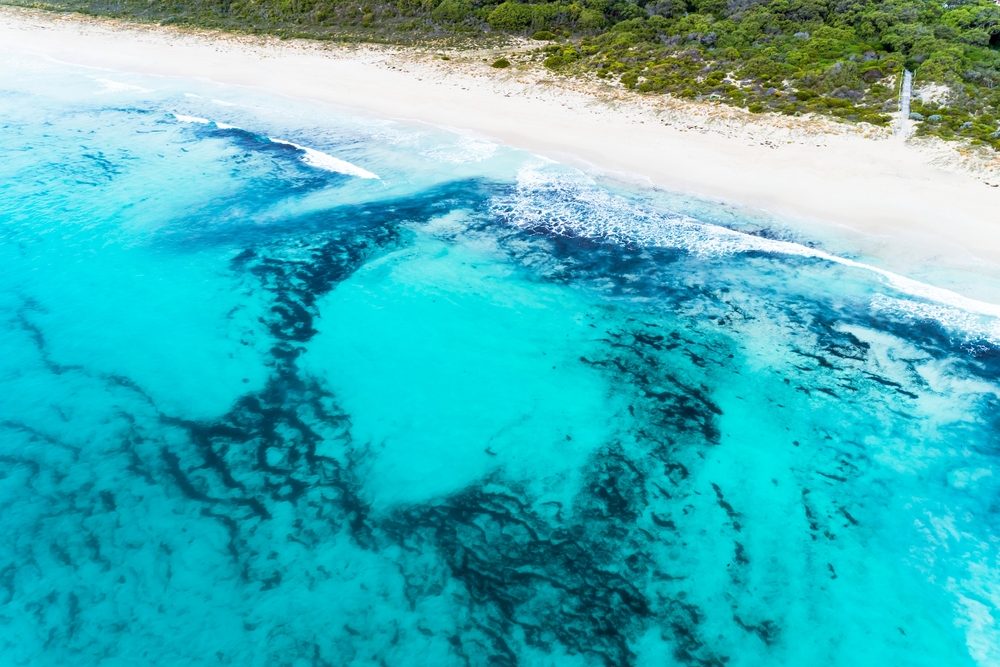 If you're a nature enthusiast, Bunker Bay, close to Cape Naturaliste will captivate you with its stunning surroundings. With its dramatic rocky coastline and crystal-clear waters, Bunker Bay is also a prime spot for whale watching. The bay is a regular stop for migrating humpback whales and resting southern right whales, and there's nothing quite like watching these gentle giants from the shore.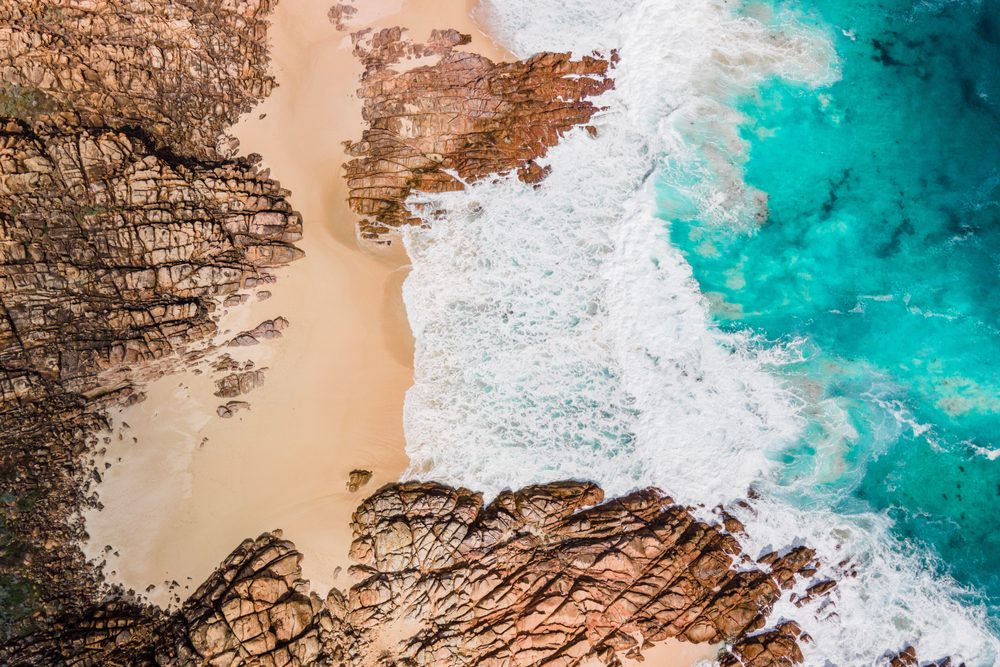 Surfers and water sports enthusiasts will find Yallingup Beach to be their playground. This beach is known for its consistent waves, making it a popular destination for surfers of all skill levels. If you're not riding the waves, you can relax on the sandy shores and watch the action unfold.
Dunsborough Water Activities and Adventures
Dunsborough's beaches offer a great range of water based activities that cater to every type of beach goer. Whether you're a thrill seeker or someone who prefers a leisurely paddle, there's something for everyone. Snorkelling and swimming in the glistening waters you can often see a stunning variety of marine life. Paddle boarding and kayaking provide a unique perspective of the coastline, allowing you to explore hidden coves and rocky outcrops.
For the adventure seekers, some beaches provide excellent conditions for windsurfing and kitesurfing, adding an adrenaline rush to your beach experience. And let's not forget about the joy of simply basking in the sun, building sandcastles, or taking a relaxing stroll along the shoreline as the waves kiss your feet.
Combining Beach Days with Whale Watching
One of the most remarkable aspects of Dunsborough's coastal location is its proximity to prime whale watching. The town is perfectly positioned along the migration path of humpback whales, providing an incredible opportunity to witness these magnificent creatures in their natural habitat. The months between August and November mark the peak of the southern migration whale watching season, and Dunsborough becomes a hub for wildlife enthusiasts.
To truly immerse yourself in the wonder of whale watching, consider embarking on a whale watching tour with Naturaliste Charters. These tours offer a front-row seat to witness these giants of the ocean as they breach and play in the waters near Dunsborough. The experience of seeing a humpback whale leap out of the water is nothing short of awe inspiring.
Whale Watching in Dunsborough, Western Australia is a family friendly activity and is suitable for all ages. Dunsborough Whale Watching Tours depart twice daily at 10am and 2pm and each tour has a duration of 2-3 hours. Both departure times offer optimal viewing to watch whales, as they are out and about frolicking in the bay all throughout the day! It's best to book your Dunsborough whale watching tour directly at Naturaliste Charters
To conclude, Dunsborough's beaches are a true asset to the Margaret River region, Western Australia. With their pristine sands, inviting waters, and the opportunity to combine beach days with the thrill of whale watching, these beaches offer an unforgettable escape into nature's embrace. Whether you're seeking adventure, relaxation, or a little bit of both, Dunsborough's beaches are ready to provide an enchanting experience that will stay with you long after the sun sets on the horizon.